We are proud to present to you our new Evokaii kitesurf team rider, Maxie Rath. Can you briefly introduce yourself?
Hey, I am Maxie, 25 Years old and I live in the south of Germany in Munich. I study Aerospace Engineering and will soon finish my master Degree. Whenever I have time I travel to the best kites pots and try to spend as much time on the water as possible. My Dog Carla is always by my side.

We talked only a yesterday..what keeps you riding in South Germany in 4 degrees?
Haha well, my last kitesurf holiday to Marokko was in November. If you ever started kitesurfing you will understand how addicting this sport is. I even get a bad mood if I cant get on the water for a long decade. We don't have a lot of opportunities here in Munich to kite, so if it's windy you should get on the water – even in 4 degrees. It is crazy but so much fun! And it is even a big community of Lake-Kiters. Crazy Germans! Hahaha!
What's your favourite kite and why is that?
My favourite kite is the Ozone AMP!! I already tried a lot of kite brands but I kind of got stuck on Ozone. I love the quality and the fabric of the kites. The AMP is the new Freestyle beast of Ozone. It's a C-Kite design with bridles. So its a fun kite for more aggressive freestyle and Air Style Megalooping. You get seriously Amped up riding this Kite.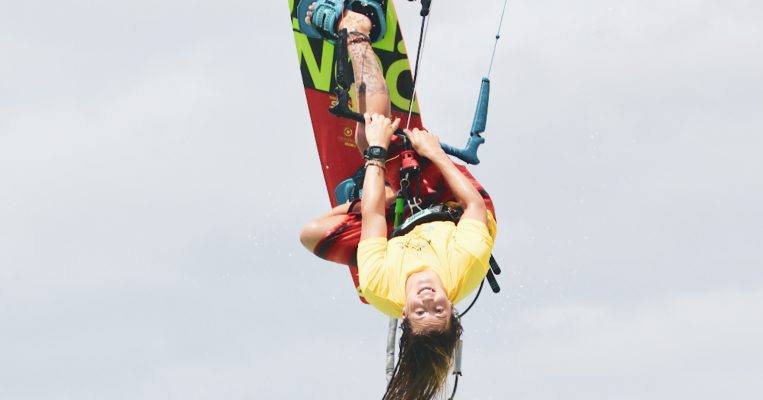 The kitesurf is the only love or you have other sources of adrenaline?
Kitesurfing is my passion and I love it. But as I said before I cant go every day. Basically I train almost everyday Kickboxing in the meantime. It is extremely tiring but its a lot of fun and you are pumped and ready for the day after. In the Summer I try to compensate for my Kite addiction with wakeboarding and riding my motorcycle. Pretty close to my home is a pretty cool wake park.
What are your plans in kitesurf on the short run? Where are you heading next and which trick moves you the most like to get it?
The next Kite trip to Egypt is already booked (For sure better than kiting in 4 degrees haha). At the end of the year, I will be done with my Master Degree. Then I finally go back to Sicily teaching and kiting by myself. I don't know yet what will happen after but for sure some cool opportunities will kick in.
This year it is definitely on my Bucket-List to join a competition – that will be fun! But I really need to improve my kite skills until then. At the moment my signature moves are the Darkslide and the Rayle to the blind. My next goal freestyle tricks are the Backmobe and the Blindjudge. Also starting to get an Eye on the Megaloop. If the wind pumps and the situation is right maybe I try one out as well.